Skip to Content
All-on-4 Will Have You Smiling Again in No Time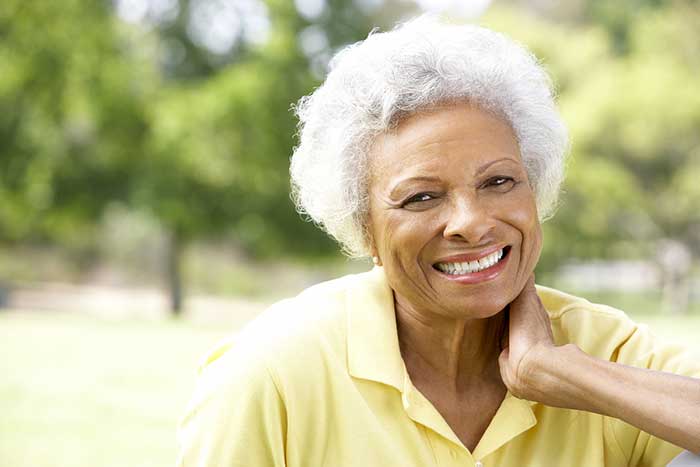 Modern oral healthcare has improved the way that we replace missing teeth. One treatment option for edentulous patients is All-on-4, which are custom made dentures supported by dental implants. All-on-4 looks incredibly natural and helps patients retain a youthful appearance. It also promotes a comfortable and efficient oral function.
How All-on-4 Works
Conventional dentures rest on top of the gums and the curve of the jaw helps keep them in place. They have limitations though, as dentures can move and slide around during meals or when speaking – especially if the bone beneath them has atrophied after tooth loss.
All-on-4 addresses the need for more stable dentures by anchoring them to dental implants. A dental implant is a small titanium post that is embedded into the jawbone. Functioning similarly to a tooth's root, dental implants can hold restorations and prosthetics. When multiple dental implants are embedded throughout the jaw, they can support an entire denture.
With All-on-4, dentures will not move or slide. The support from dental implants helps generate more biting force to eat food, too.
Unique Benefits of All-On-4
Patients with implant-supported dentures enjoy unique advantages with their replacement teeth. All-on-4 looks incredibly natural and helps patients retain a youthful appearance. As an added bonus, a person can receive their dental implants and prosthetic teeth in the same day.
In addition to improving oral function, All-on-4 protects the oral health system because dental implants prevent bone deterioration associated with tooth loss. Bone atrophy caused by tooth loss has serious effects on a person's oral health and wellbeing. Loss of bone contributes to uncomfortable oral function, ill-fitting prosthetics, misaligned bites, and orofacial pain.
The psychological and physical effects of tooth loss are devastating. Not only is eating and speaking far more difficult without teeth, but a person's self-esteem and confidence also take a big hit after tooth loss. Fortunately, All-on-4 can give you the confidence to smile again.
To learn more about your tooth replacement options, call Stonebriar Facial & Oral Surgery to schedule a consultation with our oral surgeon.
Tomorrow's Implant Dentistry Today