Skip to Content
Meet Dr. Matthew M. Kelley
Dr. Matthew M. Kelley, DMD
Dr. Matthew Kelley is excited to return home to Frisco Texas. As a graduate from Frisco High School, he is eager to provide his hometown with exceptional care. He prides himself on his attention to detail and enjoys working with patients to achieve their goals in a comfortable setting.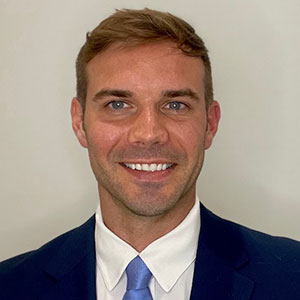 Dr. Kelley received his Bachelor of Science from the University of Oklahoma. During his undergraduate studies, Dr. Kelley became interested in maxillofacial surgery, which he pursued under the guidance of Dr. Scott and Dr. Simpson. Dr. Kelley continued his education at Midwestern University where he received both his master's and dental degree with honors. Following dental school, Dr. Kelley completed his surgical training at NOVA Southeastern University in Florida. There, he served as chief resident leading the head and neck trauma team at two level one hospital systems. Dr. Kelley's training included the full spectrum of maxillofacial surgery including head and neck pathology, facial trauma, craniofacial surgery, and facial cosmetic surgery. In addition to full scope maxillofacial surgery, Dr. Kelley remains up to date with the latest techniques in dentoalveolar surgery, dental implants, and bone grafting.
When Dr. Kelley isn't in the office, he prefers to live an active lifestyle. You can usually find him outdoors, exercising, or with his dog, Honey. He is an avid scuba diver, runner, and loves traveling outside of the country.
Education
Broward Health / Nova Southeastern University
University of Texas Southwestern / Parkland
Midwestern University College of Dental Medicine
Midwestern University
University of Oklahoma
Lectures / Presentations
Medication Related Osteonecrosis of the Jaw
Radiation Induced Osteonecrosis of the Jaw
Radiation Induced Osteonecrosis of the Jaw
Temporomandibular Joint: Disorders and Treatment Modalities
Maxillofacial Inuries in Sports
In-Office Emergency Training and Protocols
Maxillofacial Trauma
Antibiotics in Orthognathic Surgery
Complications of Radiation Therapy to the Head and Neck
Obstructive Sleep Apnea: Diagnosis and Treatment
Mandible Fractures and Dentoalveolar Injuries
Oral and Maxillofacial Cysts
A Rare Case of Peripheral Ameloblastic Fibroma
A Case of Recurrent Peripheral Ameloblastoma
Leadership and Professional Affiliations
American Association of Oral and Maxillofacial Surgeons
Resident Organization of American Association of Oral and Maxillofacial Surgeons
American College of Oral and Maxillofacial Surgeons
Florida Dental Association
American Dental Association
Maxillofacial Surgery Club
Society of Maxillofacial Anesthesia
Research
Soft tissue grafting solutions – Broward Health Medical Center Departement of Oral and Maxillofacial Surgery
The use of c-reactive protein to trend prognosis of maxillofacial infections – Broward Health Medical Center Department of Oral and Maxillofacial Surgery
Vulnerable Parkin Loss-of-Function Drosophila Dopaminergic Neurons Have Advanced Mitochondrial Aging, Mitochondrial Network Loss and Transiently Reduced Autophagosome Recruitment – Midwestern University Division of Biomedical Sciences
Certifications
Basic Life Support (BLS)
Advanced Cardiac Life Support (ACLS)
Pediatric Advanced Life Support (PALS)
Advanced Trauma Life Support (PALS)
Tomorrow's Implant Dentistry Today