Skip to Content
Can I Replace Both Lower and Upper Teeth With All-On-4?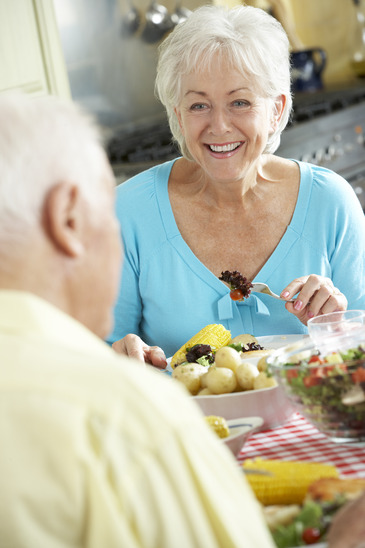 All-on-4 is a revolutionary tooth replacement method for edentulous patients who need total tooth replacement in either the upper or lower jaw or both. Compared to traditional prosthetic teeth, All-on-4 is fixed and anchored by dental implants in the jawbone rather than supported by the arch of the jaw like dentures. For patients who have lost all their teeth or those whose failing teeth need to be extracted, All-on-4 is a great alternative to traditional dentures because it fully restores oral function and appearance.
How Does All-on-4 Work?
All-on-4 is a method of securing custom dentures to a series of dental implants. For those who require total tooth replacement in both jaws, a series of four dental implants will be embedded into each jaw. These implants are placed in strategic locations so that they can support an entire arch of prosthetic teeth.
Dental implants are small metal posts constructed from titanium. This type of metal is ideal because the bone will literally integrate around the titanium as if it were the root of a tooth. The process of bone and metal fusing together is called osseointegration and this process is one major reason why All-on-4 is able to restore oral function and act as a durable anchor to prosthetic teeth.
What Are the Benefits of Dental Implants Anchored to Dentures?
Rather than solely relying on the arch of the jaw to hold a denture, All-on-4 offers another dimension of stability and security by anchoring prosthetics to dental implants. This feature alone will allow a patient to enjoy their favorite foods without fear of their prosthetics moving. Implants also impart a more natural feel when speaking, which in turn, boosts a person's confidence.
Since bone fuses to dental implants, All-on-4 can help prevent or slow down the deterioration of bone mass in the jaw, a condition that commonly affects edentulous people.
Who Is a Candidate for All-On-4?
Most people who have suffered from tooth loss or those who currently wear dentures typically benefit from All-on-4. The only way to be certain if this tooth replacement method is right for you is to schedule a consultation with one of our skilled oral surgeons.
Call Stonebriar Facial & Oral Surgery today to reserve your appointment.
Tomorrow's Implant Dentistry Today