Skip to Content
All-on-4 Dental Implants Offer Stability and Peace of Mind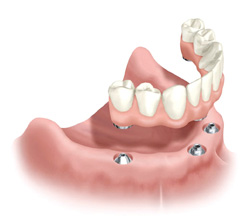 Did you know you could achieve a total smile restoration by receiving a full set of new teeth in just one procedure? Our oral surgeon offers All-on-4, a revolutionary new way to address total tooth loss by anchoring prosthetic teeth to dental implants. This allows edentulous patients an unprecedented amount of control and stability during oral function –, especially when compared to the downfalls of traditional dentures, which often lack stability. All-on-4 gives patients more than just peace of mind, it gives them a new lease on life with a beautiful and natural-looking smile.
How All-on-4 Works
By embedding small dental implants in strategic locations, an entire set of upper and lower prosthetic teeth can be supported for years to come. Dental implants are posts made of titanium and when placed in the jaw, they act as a pillar for prosthetic teeth like crowns, bridges, and dentures. In the case of All-on-4, four implants will support a set of custom-made dentures.
Implants are biocompatible because they are made from titanium. This means that the body will not treat the titanium posts as foreign objects and the bone surrounding each implant will fuse around each post. This process of bone fusing to metal is what makes implants such a durable anchor for dentures. Essentially, the four implants will serve as the roots of lost teeth and will hold dentures in place without the need for messy adhesives.
Unlike traditional dentures that lie on top of the gums, implant-supported dentures gain support from the bone mass. This unique characteristic means that patients can confidently and comfortably eat an array of foods and speak without obstruction.
Who Benefits From Dentures Supported by Dental Implants
Patients suffering from total tooth loss or tooth failure could benefit from this method of tooth replacement. Since loading implants into the jaw does require oral surgery, patients should be in good overall health and should possess a commitment to following our surgeon's post-operative instructions. The best way to determine if All-on-4 is right for you is to schedule a consultation and examination at our practice.
Contact Stonebriar Facial & Oral Surgery at 214-618-3070 today to reserve your appointment.
Tomorrow's Implant Dentistry Today