Skip to Content
Enjoy Your Favorite Foods With Dental Implants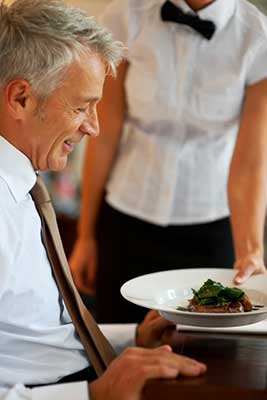 When it comes to durable and comfortable tooth replacement, dental implants are regarded as the best option. This is because implants are low maintenance, lifelike, durable, and biocompatible.
When compared to common prosthetics like dentures or bridges, dental implants offer unique benefits including a full restoration of oral function. These prosthetic teeth also support the entire oral health system, which means that patients can prevent many complications associated with tooth loss and preserve existing biological teeth. Lastly, since implants are designed to act like natural teeth, folks with these replacement teeth can enjoy a balanced diet. In fact, with implants, eating tough and chewy foods like jerky or steak is easy and comfortable. When it comes to tooth replacement, our oral surgeons often recommend dental implants because of their many advantages.
How Dental Implants Function
Unlike other replacement options that only replace the visible surface of teeth, dental implants address the loss of the entire tooth. Starting with the missing roots of a tooth, an implant is embedded into the jawbone to replace lost structure beneath the gums. Like the roots of teeth, the implant will support a tooth-shaped prosthetic so that patients can enjoy a complete smile and restore oral function. Since the jaw anchors the implant, it will not move or slide in the mouth and is durable enough to withstand the force of chewing and tearing food.
After the initial surgery where the implant is embedded into the jawbone, patients will undergo a healing period, which gives the jawbone time to fuse around the implant. The process of bone fusing to the dental implant is what makes the implant so durable. Once the healing process is complete, patients will receive their permanent prosthetic, a dental crown or bridge, to finish the smile restoration process.
Once the tooth replacement process is completed, a full, balanced diet can be enjoyed and those with implants can smile with confidence.
To find out if dental implants are right for you, we recommend scheduling a consultation with one of our oral surgeons. Call Stonebriar Facial & Oral Surgery, serving Frisco, TX, to reserve an appointment.
Tomorrow's Implant Dentistry Today