Skip to Content
Dental Implants: Advantages Of Choosing A Structurally Complete Tooth Replacement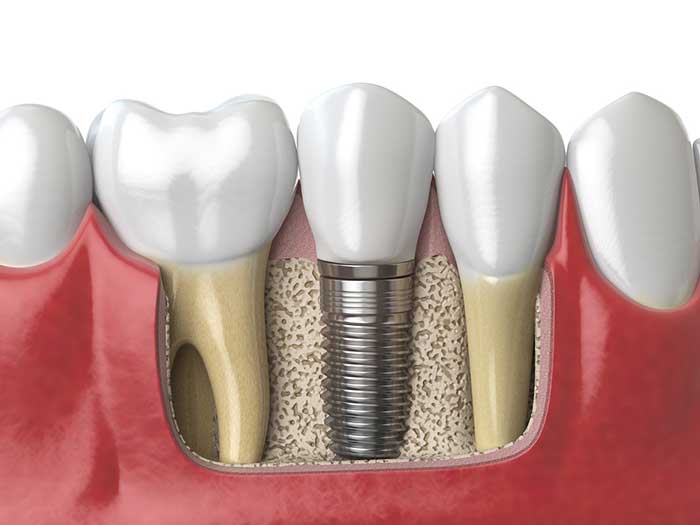 Dental implants are unique among tooth replacement options because they are the sole device that fills in for both the root and crown of the missing tooth. The process in which the jawbone tissue fuses with a titanium implant provides many benefits for patients who choose an implant-supported appliance, such as a crown, dental bridge or even a denture.
Dental Implant Technology
Dental implants are made of titanium, which is biocompatible. That means that the jawbone tissue at the implant site can form a strong bond with the implant. That process, known as osseointegration, leaves the implant as a permanent fixture in the patient's jaw.
However, in order to gain the maximum benefit from dental implant placement, the patient must have adequate bone tissue for osseointegration to be completed. At a patient's initial evaluation, the oral surgeon will assess the proposed implant site by taking x-rays and other imaging to determine if adequate bone tissue is present. If the patient has already experienced bone loss, the oral surgeon may recommend a bone graft to supplement available bone tissue and improve the chances of long-term dental implant success.
Comparing And Contrasting Dental Implants And Conventional Appliances
A tooth replacement that is supported by a dental implant has different properties than a standard dental bridge or denture. Because it is anchored by a root-like structure, the probability of jawbone erosion at the site of tooth loss is greatly reduced. This means that the appliance will retain its fit, unlike a standard bridge or denture that might need to be refitted or replaced after time. Additionally, dental implants help patients chew better because they are physically linked to the underlying bone.
Another benefit is that dental implants stand alone. This is particularly valuable in contrast to a conventional dental bridge, which requires that crowns be placed on adjacent healthy teeth to support the pontic (artificial crown). That process sacrifices healthy enamel and could compromise the tooth as a result.
A number of the qualities associated with dental implants appeal to patients in need of treatment for tooth loss. Speak to one of our knowledgeable staff members at Stonebriar Facial & Oral Surgery to learn more about the benefits of this intervention.
Tomorrow's Implant Dentistry Today