Skip to Content
Restore Your Mouth's Maximum Function With All-on-4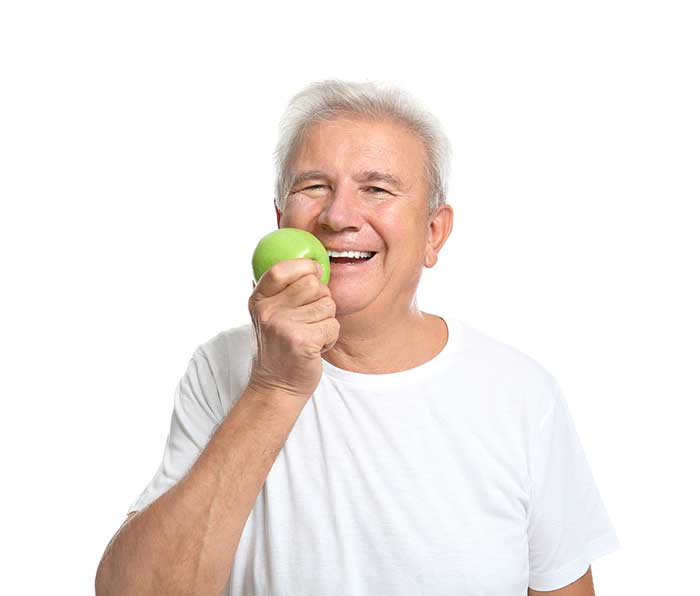 Patients who want to restore complete smiles following tooth loss of an entire upper or lower arch of teeth have multiple options. Only one treatment – dental implants – replaces the complete structure of the tooth, including both crown and root. This approach also restores the maximum function of the smile.
Using a method known as All-on-4, an oral surgeon can place as few as four dental implants to support the prosthetic arch. If you want to consider this option, it can be helpful to know what to expect from treatment as well as the benefits of All-on-4 in comparison to standard dentures.
The All-on-4 Treatment Process
In providing All-on-4, an oral surgeon will place the four dental implants in a single appointment that takes just a few hours. The patient may be able to be fitted with a temporary appliance at that appointment as well. Because of the short treatment time, this intervention is sometimes called "Smile in a Day." After the dental implants have been completely integrated into the jaw, the patient can be fitted with the permanent implant-supported denture.
Although bone loss can be a potential barrier to dental implant placement, All-on-4 overcomes this obstacle by placing the dental implants toward the front of the jaw, where the bone is thicker and there is more tissue to support osseointegration. The two outer implants are angled beneath the gum line so that they can better support the weight of the entire rear section of the denture.
The functionality of All-on-4 Vs. Conventional Dentures
The bond between the bone and the dental implants allows All-on-4 to preserve far more functionality than a standard denture. Patients can chew regularly because the implants can withstand fairly strong chewing forces nearly to the degree of those absorbed by biological teeth. An implant-supported denture is also more secure while the person is speaking, and the dental implants help to anchor the jawbone so that it does not wither away in the absence of the biological teeth's roots. As such, All-on-4 dentures retain their fit more than a standard denture.
Because standard dentures lack root-like structures, they are not able to perform many of these functions to the degree that All-on-4 can.
We encourage you to schedule a consultation at Stonebriar Facial & Oral Surgery to learn more about the All-on-4 treatment process and what you might gain from it.
Tomorrow's Implant Dentistry Today