Skip to Content
How Soon Can I Return to School or Work After Wisdom Tooth Extraction?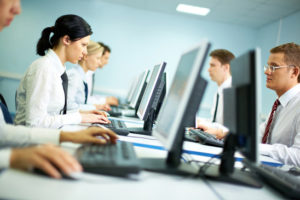 A surgical procedure, such as wisdom tooth extraction, does require a certain period for recovery, but in many cases, patients can resume most of their normal routines within a few days. This includes returning to work or school, although if your job involves vigorous activity, you may need to talk to your employer about modified duty for your first few days back at work.
At your initial evaluation and again at the time of the extraction, your oral surgeon will give you a more detailed timeline of expectations for your recovery based on the specifics of your case.
When having your wisdom teeth removed, it's also important to closely follow the post-operative instructions provided by your oral surgeon. This will help you reduce your risk of complications that could derail the healing process and keep you off your feet. Those instructions include avoiding drinking straws to prevent dry sockets and abstaining from smoking, which can contribute to inflammation that interferes with healing.
The patient's age also influences the pace of recovery. Younger patients bounce back more quickly from wisdom tooth extraction because it's generally easier and less complicated to remove the wisdom teeth in patients who are younger than 25 years old. Patients in their late 20s and beyond may be out of work for a few additional days, as a result.
In addition to planning for your return to work or school, it's also important to be prepared for the 24 hours immediately following your wisdom tooth extraction. You will need to make arrangements for a responsible adult to escort you home after the appointment and stay with you until the effects of the sedatives are completely reversed, for example.
Don't worry that wisdom tooth extraction will have you out of commission for an extended period of time. In most cases, patients can get back to their typical routines in a few days. Contact our team at Stonebriar Facial & Oral Surgery if have any questions about what to expect from your recovery.
Tomorrow's Implant Dentistry Today